Please join us Saturday, April 12, at 7:00 pm at Brilliant Books  for our launch and celebration of the new issue of Dunes Review!
Publishing Dunes Review is one of our most important missions as Michigan Writers, and this launch is also a celebration of writers and writing. Please, come be a part — you'll be glad you did.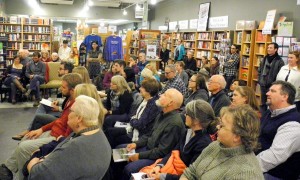 Brilliant Books, "Your Long Distance Local Bookstore" and our host for the evening, is located at 118 E. Front Street in Traverse City, MI.