Saturday, November 15, 2014
5-7pm
Outre Lounge, InsideOut Gallery
229 Garland Street (Warehouse District)
Traverse City, MI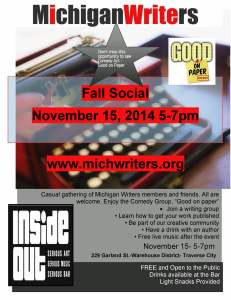 On Saturday, November 15, come join us for a casual "happy hour" gathering of Michigan Writers members and friends at the InsideOut Gallery.
The topic is creativity and belonging. That's why we've invited special guests Good on Paper, an improv comedy group, to get the fun started.
And are you thinking about writing groups — how to start a new group, how to join an existing group, how to invigorate your current group? Writing groups exists for all sorts of reasons, from loose gatherings that encourage new writing to genre groups, groups defined by geography, and groups focused on intensive critique.
At our Fall Social, we'll play writing group matchmaker. Come if you have a group need!
Our venue is the Outre Bar at the InsideOut Gallery, a place to grab a drink, have some fun, and meet some interesting people. We're starting at 5pm, but feel free to linger with live music into the evening.
This event is free and open to the public. Come writers, come readers and critics and all lovers of things literary — let's get creative.