Michigan Writers Cooperative Press
Since 2005, the Michigan Writers Cooperative Press has helped emerging writers of poetry, short stories and creative nonfiction by publishing their first book in a literary genre by a reputable press.
As part of this cooperative venture, authors share with the Cooperative Press the costs of production and responsibility for marketing the chapbooks, which are sold at Michigan Writers events, online, and in bookstores and retailers in Northern Michigan.
For more information, contact us at [email protected].
---
The submission period for this year's chapbook contest closed on December 31, 2017.
Submissions will re-open in October 2018 for the 2019 Michigan Writers Cooperative Press Chapbook Contest.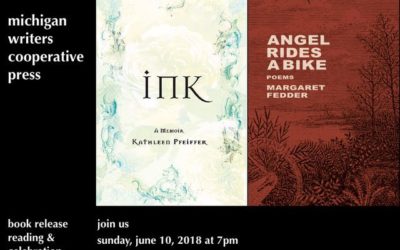 Sunday, June 10 @ 7 PM The Writing House at Interlochen Center for the Arts Please join us for a reading and reception celebrating the work of this year's Michigan Writers Cooperative Press chapbook contest. Poet Margaret Fedder, author of Angel Rides a Bike, and...