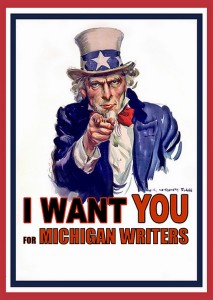 We've recently announced that we're inviting inquiries about joining the board of directors for Michigan Writers. But what does it mean to join the board?
In its simplest form, being a board member means that you'd like to take a more active role in Michigan Writers. We are a community whose mission is to participate in and encourage this region's growing literary culture. By joining the board, you are nurturing this mission in the most practical of ways.
The board is how we Michigan Writers members act to direct our energies and resources. Our budget comes from our own membership dues, and we pool these resources to serve our members' goals. In practice Michigan Writers focuses mostly upon emerging writers, which is why we fund two annual issues of Dunes Review and our annual chapbook contest for new writers in fiction, nonfiction and poetry. We also bring in those with experience in writing, editing, publication and other creative and practical areas to run up to a dozen workshops a year for our members, as well as the general public. And we also host events where we can expand our circle of colleagues and friends, show off some exciting things we're doing, and have some fun.
Michigan Writers exists to open a creative space. You don't need to stretch the canvas yourself; you can just begin painting. If you have a project that you can't do alone, here you can enlist help to make it real. For instance, Art Mantecon had an idea that the community should come together to read Walt Whitman's Leaves of Grass in public and for each other — and last fall, with the help of Michigan Writers, that's what we did at the State Theatre.
I also read a canto, even though I never thought I'd be on the State Theatre stage, because I'm using this creative space in many ways I hadn't expected. I'm now a member of my first writing group, formed at a Michigan Writers potluck, and because these other writers are keeping track of me, I've completed the draft of my first novel. I'm also creating video and podcast projects under the Michigan Writers banner (note to self: We need an actual banner), some of which you'll begin seeing here soon.
However, the most important thing I've gained by being not just a member but a board member is simple: I no longer feel alone. Sharing with readers is social, of course, but writing often feels like a solitary endeavor. But even when I'm alone at the keyboard now, Michigan Writers helps to make me feel connected.
Being on the board does take some commitment, although you control the amount. The time itself is modest: participate monthly in a 90-minute board meeting. Beyond that, you can choose to dive into any (or even all) of the projects spearheaded by your fellow board members, to take charge of one of the projects we sponsor, or to create a wholly new avenue that most interests you. Michigan Writers is, as I said earlier, your creative canvas.
You'll be building something that all of us can share. Whether you're a writer, an editor, a reader, a lover of the literary life — whatever brings you to Michigan Writers, you can bring this to the board, and I suspect you'll find your own unexpected rewards.
If you'd like to be more involved in your  writing community, contact any of the board members you already know, or feel free to contact me. We'd love to talk with you about what we can do together.