Register Below!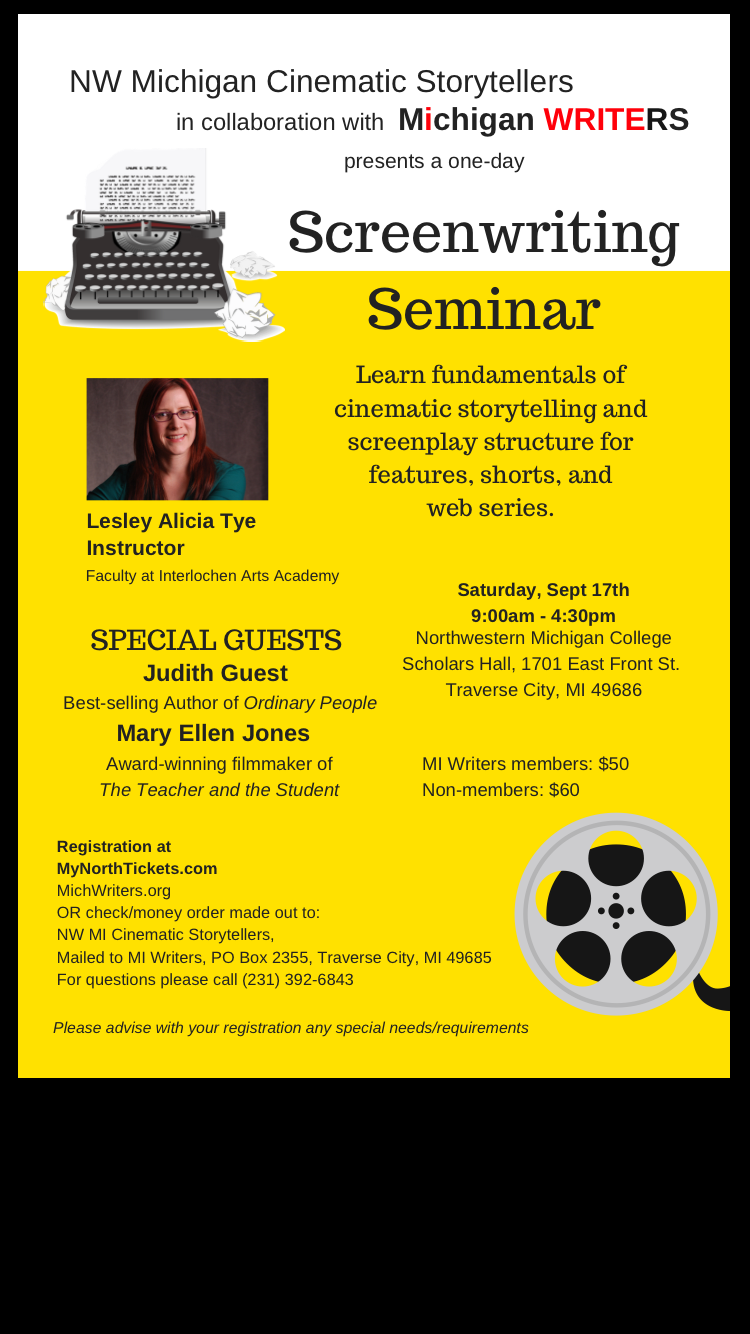 Register Now:

Click here to register online,

or, mail check or money order ("NW MI Cinematic Storytellers") to:

Michigan Writers
P.O. Box 2355
Traverse City, MI

Questions? Call/text Susan at 231-392-6843




Seminar will cover:
Fundamentals of Good Screenwriting
•Using the tools of the filmmaker to tell your story for the screen
•Creating the visual metaphor
•Writing successful dialogue
•How to reflect genre on the page
Screenplay Structure
•Spotlighting the short script
•Examination of set-up / punchline structure of shorts & scenes
•Character Arcs & Three Act Basics
Q & A at end
Faculty Bios:
Lesley Alicia Tye is a writer and instructor of screenwriting and film at Interlochen Center for the Arts. She earned her BFA in Screenwriting from the University of Southern California and her MFA in Creative Writing from National University. Lesley has also taught seminars for Michigan Writers and Northwestern Michigan College's extension program. Previously she worked in Los Angeles in film and television, with credits including casting assistant, below-the-line agent with Casala, Ltd, and Costume Designer for the feature Two Coyotes and short The Millennium. Her flash fiction has been published in the anthology Bite from Trachodon Publishing. She has written several feature length screenplays, and was co-writer for the television pilotDevin's Chronicles for Caspian Sea Entertainment. Here in Traverse City Lesley is co-creator of the Mash-Up Rock 'n Roll Musical Troupe and wrote and directed How Grinchy Met the Who, Grimm's Alternative Fairytales and The Sound of Uzis.
Judith Guest was born in Detroit, Michigan. Her first novel, Ordinary People, published by Viking Press, won the Janet Heidegger Kafka Prize for best first novel in 1976.  It was made into a movie that won six Academy Awards, including best picture for 1980 and Best Director for Robert Redford in his directorial debut.  Her novel Second Heaven was selected as one of the School Library Journal's Best Books for Young Adults. She has written several other novels as well.
Guest has also written several screenplays, one of which was based on a trio of short stories by Carol Bly and was made into a movie called Rachel River.
She is currently at work on a play tentatively titled, Clara, a Life in Nine Scenes, and is based upon fifty years of diaries written by a Minneapolis woman born in 1898.
Mary Ellen Jones is a Multi-Camera UPM, Director and Associate Director
member of the Directors Guild of America. Her credits include: Executive Producer, The Tarnished Eye Limited Television Series (in development); Director, Writer, Producer, Exploring our Native American Heritage Documentary, (in production), Director, Writer, Producer Life in Mikado Documentary (in post production); Director, Co-Writer, Producer The Teacher and the Student short film; Director, Producer – Stage Play Dinner With Friends Alpena Civic Theatre, Alpena, MI; Director, Producer, Writer – Stage Play Quintetto Sonare Alpena Civic Theatre, Alpena, MI; Director, Moesha; Produced nine television series including Moesha, The Army Show, Fresh Prince of Bel-Air (Co-Producer), The Wayans Bros., Thea, Soul Train (Production Supervisor) and over twenty pilots for CastleRock, Dreamworks, Warner Bros.; Delivered hundreds of hours of projects to ABC, NBC, CBS, FOX, NESN and other networks.
Mary Ellen serves on many arts and culture organization boards in Northeast Michigan and is currently working on a regional project called The Lake Huron Discovery Tour…marketing the Sunrise Side of Michigan to outsiders utilizing the U.S. 23 Heritage Route website. The Lake Huron Discovery Tour was recently awarded a $25,000 Michigan Heritage Grant for the project Exploring our Native American Heritage in NE Michigan.